Hilarious Birthday Celebrations
If there is anything better than a great birthday celebration, it's a great birthday celebration as expressed through a silly meme. Another year old doesn't necessarily mean you need to be another year wiser, but a clever meme can't hurt.
Good Clean Fun
A foam sponge with a scouring pad probably isn't what you had in mind for your birthday cake. This is not the kind of sponge cake you'll want to eat, but cleaning the house can be therapeutic, can't it?
Socks Would Be Better
When it comes to the vocabulary of emoji, there are few symbols quite as iconic as the smiling pile of poo. As you make your way through your birthday gifts, hope you don't get something quite so nutty. What? Too corny?
Just Dive In
When it comes to funny birthday images, this one takes the cake. Literally. Maybe you shouldn't fret so much about decorating the best kids' birthday cake as all the frosting is just going to end up on their face anyhow.
Sign Down Under Here
Did you know a number of companies and businesses offer awesome birthday freebies? Enjoy free food, free coffee, free cosmetics, and even free show tickets when you sign up for their respective mailing lists and loyalty programs.
The Purr-fect Disguise
You might feel like just a grumpy little kitty inside, but if you want to be a lion for your birthday, then be a ferocious lion! You can distract everyone away from your real age with some funny animal puns too.
A Pup-Tacular Good Time
Dog birthday parties are totally a thing, and they're definitely a time for celebration. Treat your canine companion (or yourself!) to a wonderfully good time and when you're all partied out like this chihuahua, enjoy a bit of a siesta too.
Mmm... Beefy!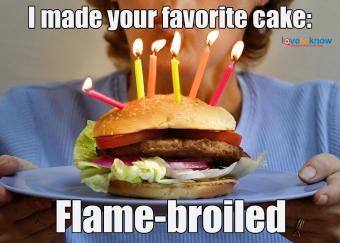 Who said all birthday cakes have to be traditional with fruit, ganache, and frosting? What if you want a homemade hamburger "cake" with bacon, tomatoes and lettuce instead? Those candles really add to the flame-broiled taste, don't you think?
Don't Be Such a Groucho
Growing old is mandatory, if you should be so lucky. Growing up, on the other hand, is completely optional. If you're planning a party for someone a little older, there are plenty of over the hill birthday cake ideas to consider. Just be careful about all those candles!
Peekaboo!
When you can celebrate a birthday together in person, the next best thing is to share a funny birthday meme over the Internet or in a Facebook message instead. Don't forget to uncover your eyes before clicking the "send" button.
Shockingly Awesome
You don't need to listen to '80s hair metal to have a gloriously good time, but it couldn't hurt. Wish your friend the most awesome of birthdays with this electrifying image. Rock on, brother.
Normal greeting card messages may be more appropriate for some recipients. For people with more of a sense of humor, however, a knee-slapping happy birthday meme is much more in line with the digital age.