Cute Ways to Say Goodnight
Are you tired of mumbling a simple "g'night" to your loved ones? Does your partner yawn, not because he's actually ready to hit the hay, but because pre-sleep communications are so dreadfully boring? Well, help is here! Get ready to turn your trip to dreamtown into something that induces shudders of cute-gasms.
Tell a Story
How many times did you zonk out to your mom or dad reading a story? Carry on the tradition of putting your family to sleep with your voice by recording yourself weaving a tale. Sharing the recording with your children or parents makes a great goodnight gift and let's them know how much you care. Also, it may not hurt to slip in the occasional subliminal family reminder. *You will put dirty clothes IN the hamper...
Morse Code
Teach yourself how spies (probably) say goodnight. Instead of screaming "GOODNIGHT!" to your family or roommate in another room, tap it out on the wall next to them. Or, you can get nerdy and intimate by spelling your goodnight wishes on the hand, arm, or wherever of your significant other.
Long Distance Video Chat
What's cuter than falling asleep in each other's arms? Why falling asleep together in front of glowing screens, of course! After a lengthy Skype session running the gamut of things to say about your day, bask in the silence of each other's company and nod off with your laptop still propped up on your pillow.
Toothbrush Post-its
For those who work alternating shifts, it's hard to get a word in edgewise with your loved one. As your better half sleeps, leave your cherished other a cute drawing on a sticky note where he'll find it when he gets up to start his morning routine.
Macaroni Art
Harken back to your childhood when the best way to communicate your appreciation for your mom was to hand her raw pasta stuck to a piece of construction paper. No longer just for mom, reverse roles and spell out a simple macaroni "goodnight" for the tikes. In fact, you can create a nighttime pasta mosaic for anyone! Remember, it's not how you say goodnight, but whether you say it with farfalle or pappardelle.
Glow in the Dark Skywriting
No, not actual skywriting. We would never suggest that you put glowing chemicals into the sky, no matter how cool it might look. But by all means, skywrite on the ceiling of your loved ones' bedrooms! With some glow in the dark stars, sticky tack, and a little imagination, you can leave a glimmering message that is out of this world.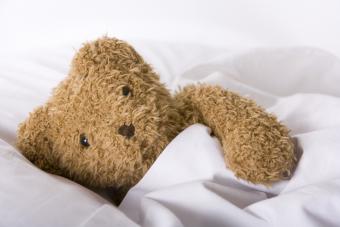 Stuffed Animals
Do you fall asleep as soon as your head hits the pillow? Are you not coherent enough before bedtime to speak even the briefest of phrases? Let a stuffed animal do it for you. Thanks to technology, you can now record your pre-sleep wishes during the daylight hours for your kids and partner to listen to come bed time.
A Night Poem
For centuries, poetry has been the key to a lover's heart -- and the beauty of the form is that it comes in so many. Say a brief 'night with a haiku; or if you're more verbose, a longform ballad may be more appropriate to lament your sorrow in parting to sleep. For a real challenge, write a poem into a portrait of your subject's visage (that's words shaped like a face for you lazy haiku writers).
Baby Talk
Sometimes you need a specific type of "goodnight" to cap off a long, pointless date. You want to be final, but also let them down easy. A super cutesy doopsy farewell will perfectly confuse and turn down someone in one fell swoop. Channel your inner shy child! Spout a spirited "goowd alrighty nighty tighty" and drop the mic on the evening.
Balloons
Nothing marks the end of the evening quite like crawling to your bed through a floor covered in balloons. Maybe those balloons have loving messages written on them in magic marker. Or maybe the gesture speaks for itself.
Falling Asleep Adorably
There you have it! Ten sure fire ways to make 'em go "awwww" without even the slightest hint of irony as they nod off to slumberland. Next time you're itching to catch some Z's, remember to take a little time to wish that special someone an adorable "goodnight."