Have a Punderful Holiday Season!
Tired of the typical "Happy Holidays" and "Merry Christmas" cards? Yes, they're heartwarming, but they're also trite and overused every single holiday season. You want something dynamic, silly, and catchy! When you're looking for a way to… spruce… up your holiday cards, party, or gifts here are some ideas to make your spirits brighter!
Happy Holla Days
Do you have a kid that's way too cool for school? You know, the teen who's much too awesome to ever be seen with family? This one's for her! Get a great picture of Ja Rule, Missy Elliott, or any other rapper that makes use of "Holla!" in their music. It'll show your kid you used to be cool back in your day, too! Or, you can use a picture of an elf wrapping a gift calling him a "Christmas wrapper!"
Let's Get Elfed Up this Christmas!
Alright, we all know the holiday season means delicious candy cane martinis, eggnog, and adult-y hot chocolate! When you want to invite your gals over for a holiday soiree, this is a great line to get the party started! Create a tasty drink recipe or make your own traditional mulled wine to keep your besties holly jolly. Then make sure to either put Love Actually or The Holiday on repeat while you're enjoying some extra holiday spirits!
Join in the Reinbeer Games
If you're throwing a holiday soiree, use this great line to and people will know your holiday party is going to be a real (snow) ball! Just make sure to have some fun games lined up for your guests like Santa's Hat! This is an easy one. Place a Santa Hat on the corner of your TV while playing Christmas movies. Whenever is looks like someone's wearing the Santa hat on screen -- take a sip!
All I Want for Christmas is Ewe
This is a good one for your partner. You know they're going to scour the ends of the earth to find you the perfect gift, and this line takes the pressure off a little. You could even get them a wool sweater or blanket and really tie the theme together in a witty way. Inside the card you can also say, "Fleece Navidad" for a laugh!
Seasoned Greetings
Looking for a fun, memorable line for your Christmas cards that brings delicious food into the equation? This is it! Besides, who isn't stuffing their face with amazing food the entire month of December anyway? If you're hosting a dinner party this holiday season, try this fun invitation to your celebration.
You're Getting Muffin for Christmas
Are you a baker who loves to give your confections to your loved ones over the holidays? Find a yummy muffin recipe, then add this line to your gift baskets! Pro tip: muffin tops are the best part of the muffin (everyone knows this). When you find a great holiday muffin to whip up, try making only the toppers. This saves you some batter to make more!
Good Tidings We Bring To You and Gherkin
There's a German holiday tradition that includes hiding a pickle ornament in your Christmas tree. Whoever finds the pickle, gets an extra gift from Saint Nick! Kids love this game, so this line is awesome for the annual family gathering. You can even put out a pickle plate for everyone to munch on. Extra points if you make your own pickles!
You Turn Me On Every Christmas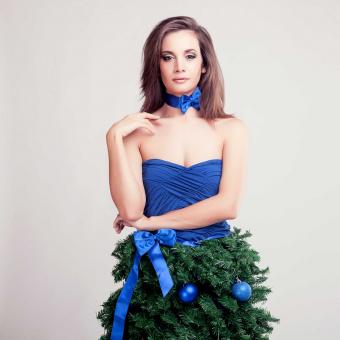 Here's another great Christmas card idea. Send a picture of your Christmas tree from last year (or this year if you like living on the edge). Or you can send an e-card of you lighting up your Christmas tree for the real effect. This is a line that's sure to get some laughs.
Owl be Home for Christmas
If your family is scattered across the country and it's your turn to make the visit; write this one in your Christmas card. Or you can find the cutest image of a little owl flying and add a line inside saying, "It'll be a real hoot!" It's a heartwarming pun that'll make your family even more excited for your visit and also bring a smile to their faces.
It's Christmas Thyme!
Here's an easy one. Tie some thyme together with Christmas ribbon and take a picture! It's not only amazing for a card, but also as a dinner invitation -- especially if you host a highly anticipated Christmas dinner year after year. An idea for inside the card, "Lettuce celebrate! Peas bring sides, salads, or desserts so we can have more options to get egg-cited about!"
If you like to sharing a good giggle during the holiday season, another way to embellish your puns is with goofy Christmas song parodies. It's a great way to give your loved ones a fun-filled holiday!