Cool Gifts for That Special Someone
Finding a gift that is unique, useful and loved is tricky. Even trickier? Finding a gift that is unique, useful and loved for the person who has everything. It is the very definition of a #FirstWorldProblem, but a problem nonetheless. Don't worry! With just a little imagination, you can do it.
The Gift of Stars
Buy Now"
The night sky can fill anyone with awe. In the winter though? No offense to hardcore astronomers, but most people's idea of a nice night out does not involve freezing to death. So what's a wannabe warm stargazer to do? Why doing it in the comfort of their own home while snuggled on the couch, that's what! And with the Homestar Original, a high definition rotating planetarium, your hard-to-buy for someone can enjoy the stars of the northern hemisphere without leaving her living room. She can even make a wish with the "shooting star" function! And to add a little variety to the mix, check out the additional discs for a glimpse of the Andromeda Galaxy or the view from the Moon.
Price: About $150 for the planetarium and about $35 per double disc pack
The Gift of Fragrance
This might sound familiar. You receive perfume as a gift. You spritz some on and it makes you gag. Then you smile so not to offend whoever gave it you while thinking to yourself, "you don't know me AT ALL!" So how do you make sure your gift doesn't end up odifersouly offending your friend and end up in the trash? Book a private session with a professional who works with clients to create a custom blend just for them. There are perfumeries from coast to coast and the prices vary - from $200 for a bespoke scent by Joya Studio to upwards of $1000 for a custom fragrance created by the renowned nose Sarah Horowitz.
Price: From $200 to $1,000
The Gift of An Unique Experience
People are happier when they spend their cold hard cash on experiences rather than things, or so says a study done by University of San Francisco. So for the one person in your life who has everything, consider giving them the gift of a unique experience. But what kind of experience, you may be asking. First think about their interests and then find something to match that. Daredevils might enjoy zip-lining or helicopter flying lessons. Avid golfers might appreciate a lesson with a pro. For foodies, book a cooking class with a renowned chef.
Price: $100+
The Gift of Mystery
Nowadays there are subscription boxes for just about anything. Coffee, candy, underwear, skincare, and moss. Wait, moss? Yes, moss. That said, few people are into moss. So instead of the same old tired monthly subscription boxes why not try adding a little mystery to your friend's life instead. The Mysterious Package Company does things differently. What's in the box? What's in the box?!? No one knows, but that is what's so cool about it.
Price: $100 to $200
The Gift of Illuminated Toilet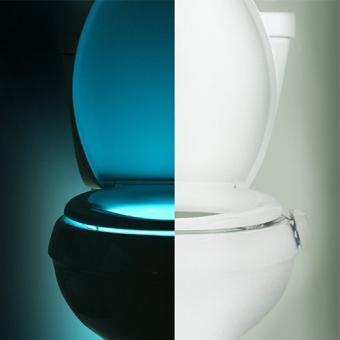 Buy Now"
It's a universal problem. At some point in everyone's lives, nature calls at an inopportune moment aka at night. And when it comes calling in the middle of the night, you know one of two things will happen. You turn on the light, jolt wide awake and then you can't go back to sleep. Or you stumble around in the dark and slam your toe on something. But no more! Your friend can forget about all that once you gift them with the Illumibowl, a motion activated and light sensitive gadget that fits on the toilet bowl. It switches on when it senses movement and only in the dark. And as an added bonus, it looks like there is an alien invasion happening in the bathroom.
Price: Less than $20
The Gift of A Day
Wouldn't it be cool if you could dedicate a day in someone's honor? Well, guess what. You can! And the process is simple - visit MyDayRegistry, pick a date that holds a special meaning for your friend or loved one and register their day either by state, country or the world. Voila. There are only 365 days in the year, so limited spots are available, so you may have to get creative with the dates. MyDayRegistry then provides a certificate of ownership. Slap a frame around that bad boy and you've got yourself a unique gift for your friend with everything.
Price: $55 to $200
The Gift of Land
A private island is the ultimate status marker of the rich. But private islands are quite pricey (most of us do not have Richard Branson's spending power). So what's the next best thing? Land in the heart of Ireland's countryside. Buy the gift of one square foot of land in Roscommon county, a certificate of ownership and detailed directions to the plot. Your friends can pretend they are noble land owners... on a much smaller scale.
Price: About $50 per plot of land
The Gift of Good Wine
Wine is one of those gifts we all reach for when we don't want to show up somewhere empty handed. But the Elevie wine maturing badge is so much better than any bottle of booze. What is it? A piece of silicone you stick on the side of a glass of wine. About 5 minutes later, take off the badge and enjoy a perfectly matured glass of vino. Like magic! How ingenious is that? And just when you thought it couldn't get any cooler - it works on both red and white wine!
Price: About $60
The Gift of Personalized Art
When someone mentions personalized gifts the first thing that comes to mind is something monogrammed or engraved, right? But Soundwave Art takes it to another level. Everyone's voice has an unique pattern (much like fingerprints). Soundwave Art can take any recording and turn it into a piece of art. Record your loved one's talking and see it as a painting or print. Record yourself saying "I love you" and have it turned into jewelry. Other options? "Don't forget to take out the trash." "Pick up your socks." Or "I told you so." Who will know, we ask you? You might as well have fun with it.
Price: Art from $50 to $300; Jewelry up to $1,000
The Gift of Weird, Wacky And Wonderful
#FirstWorldProblems or not, we all have at least one person in our lives who is impossible to shop for. But there are plenty of wacky and wonderful gifts to knock their socks off. Who knows, maybe the illuminated toilet was just the thing missing from their lives.