10 of the Ugliest Ugly Christmas Sweaters for Women
'Tis the Season
It's almost that time of year again! Which time? Why, when "sweater weather" becomes something more flamboyant and struts its striking, seasonal colors of course! Showing off your festive spirit comes in many forms, but none so garish as the ugly sweater. Here's our list of the top atrocities against wintertime wearables.
Put a Bow on It
Buy Now"
On a scale of one to ten, this sweater landed on first place for being the least ugly and the most distracting. That bright red bow delivers a searing hot image of the gift that no one asked for into the brains of anyone who lays eyes on it. And what are those black things? If they're "greater than" symbols like we assume, this sweater is letting us know that anyone sitting next to the person wearing it automatically looks greater than them.
No Means No
Buy Now"
Nothing makes you want to wave goodbye to the season's greetings more than sexual harassment. This green gem thinks it's so clever with what are… ornaments? Lemons? Melons? We'll just say "insert boob metaphor here." Anyway, you don't need to wear a sign on your chest that invites your creepy uncle to act out.
Light 'Em Up
Buy Now"
What looks like a dead-eyed, disembodied deer face trapped in the headlights is actually just Rudolph shining bright. This twinkling sweater will make you stand out at the party but will blind your friends because it's so ugly.
Big Head, Tiny Body
More Details"
Whoever thought it was cute to attach a normal woman's head to the neckline of a teensy, knit sweater lady did not consider the horror of their creation. This Frankenstein's monster of a striped mess is more appropriately proportioned for a child than it is for someone with a fully developed cranium.
Hang Your Stocking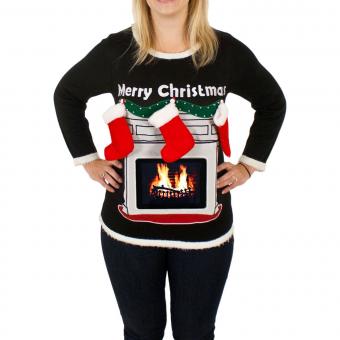 Buy Now"
This sweater hits the mid-range of ugly sweaters because of the photo-realistic fire charmingly framed by a child-like drawing of a fireplace and topped off with actual stockings that dangle off your chest like stripper tassels. If you want to excel at attracting unwanted attention, you've found the "kick me" sign of sweaters right here.
Reindeer Shame
Buy Now"
Continuing our hate-hate relationship with reindeer is this number. It blends all of the classic elements of the bad sweater (bright red, pixelated silhouettes of pseudo-animals, and a second slightly less ugly shirt fits under it) with all of the added charm of a generic iron-on patch and a bedazzle gun. All sarcasm aside, it looks like this sled-puller has the pox for a nose.
Holy Moley
Buy Now"
Sweet Jesus, sweetheart, who did you upset so much that they made you headliner in the bad sweater parade? J.C. looks like he's saying, "let's throw a party," but is secretly thinking, "this is sacrilege, save this girl's fashion sense and burn this rag."
Grandma's Apron
More Details"
In a small, sad corner of the world one quiet voice, desperate in manner, sighs and wonders what it could have done to be a bit more frumpy. For those of you who don't just love granny's vintage duds but actually want to be her, look no further than this uncanny gaze into the future, ladies.
Pom Poms
Buy Now"
Doesn't the song go, "deck the halls," not "deck yourself?" Fake suspenders hold up the last of your dignity while shiny tinsel poms make this twee sweater all flair and no fashion! This is what a changing room movie montage would look like inside of a craft store.
Ho Ho No!
Buy Now"
Santa, why?! Saint Nick is treating Mrs. Claus to a personal delivery this Christmas, but all your family will remember in the coming years is your young cousin's mental trauma and therapy bill. Usually I would advise to donate a piece of clothing this terrible, but I'm afraid the wrong person would purchase it and weaponize it!